Overview
This mini Lonik LTPL-3080 Top Load Semi Automatic Washing Machine will take away your washing worries. It will lighten your washing loads and take care of the painstaking washing chores. Its compact, portable design makes it an ideal choice for small apartments. This top load washing machine has a single tub for both washing and drying.. It has a decent capacity and can handle a good bunch of clothes and similar items at the same time and uniformly cleans each item carefully to give them effective cleaning and refreshing wash. After washing, the machine also partially dries them, thus proving to be all the more utilitarian. This home appliance from has an ergonomic make and delivers powerful performance when it comes to cleaning clothes. This product comes with 1 year manufacturer warranty, which adds to its lifespan. It comes as a great help to those who want to avoid hand-washing of clothes, even if the load is light.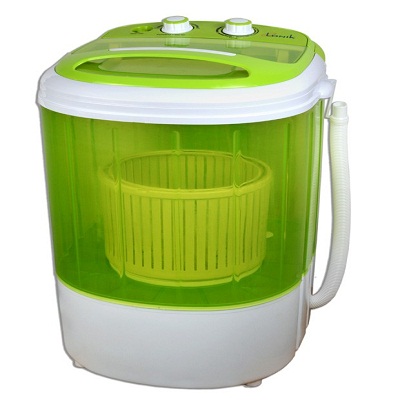 Design and Body
With an attractive colour combination of green and white and a semi- transparent lid that allows you monitor the process, the Lonik LTPL-3080 Top Load Semi Automatic Washing Machine looks extremely classy and complements all kinds of settings. It is small in size and is provided with an ergonomic handle, thus easily portable. The inside tub or the drum and the spin basket are made from good quality material and allows free movement of clothes without any abrasion and damage. There is a separate space inside to pour detergent along with liquid soap and the washing machine uses it carefully to clean the clothes. It comes with 2 ergonomically designed knobs, one for wash and spin program selector and the other for wash and spin timer. You just need to select the desired program and set the time, and you are done. The outer body is made from fine quality plastic and is very sturdy. Also, the plastic body is resistant to rusting and shock-proof as well. The machine measures 39 cm in width and 37.5 cm in both depth and height. The machine has a capacity of 3 kg for washing and 1.5 kg for spinning and drying. Additionally, it comes with thermostat which will prevent overheating even when you are using the washing machine for a long time.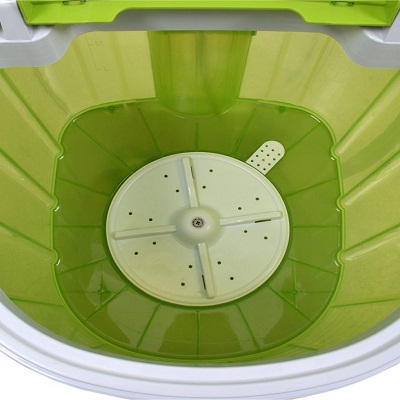 Wash Programs
This Lonik LTPL-3080 Top Load Semi Automatic Washing Machine comes with clock wise and anti-clockwise washing cycles to pull off even the tiniest of dirt particle from your clothes. It uses a single tub to wash and dry the clothes. This washer cum dryer is suitable for washing jeans, t-shirts, towels, sarees, curtains, bed sheets etc. This machine can wash 5-6 adult clothes or 9-10 clothes of your baby in single time. It is time savvy as it takes only 15 minutes for washing and 8-10 minutes to spin the clothes.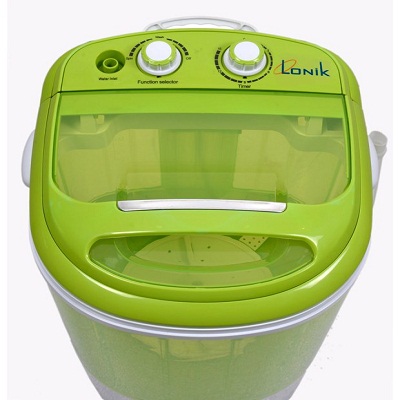 Power Consumption
The Lonik LTPL-3080 Top Load Semi Automatic Washing Machine requires a power supply of 220 V and 50 Hz to perform the functions it is meant to effectively and efficiently. Its power consumption is rated at 170 Watts for both wash and spin. The low electricity consumption and low water requirements make this device highly economical.
Lint Filter
This Lonik LTPL-3080 Top Load Semi Automatic Washing Machine has the ability to collect lint in a separate portion that is provided inside the tub during each wash and does not allow the lint to mix with the clothes or lie at the bottom of the tub. This ensures that your clothes get a refreshing wash with coming out with a dusty layer on them.
Maintenance
Maintenance of this Lonik LTPL-3080 Top Load Semi Automatic Washing Machine is not a hassle. Both the interior and exterior of the washing machine along with the detachable parts can be cleaned with a dry piece of cloth to prevent from accumulation of soap stains or water sediments. When not in use, you can cover it with the washing machine cover so that dust does not accumulate on the surface.
Washing Instructions
This Lonik LTPL-3080 Top Load Semi Automatic Washing Machine will give you proper clean clothes if you follow the washing instructions. It is advisable not to overload the washing machine. Ensure that the water level is enough so that the clothes can float in water. This is because lesser water may cause damage to fabric of clothes and hamper the performance of the machine. Remember to hang the outlet pipe while in use.